Chef Franc: The Music and Diner Party/ Troubadour/ Bon Vivant life
(Flavorful food & Inspiring wine to fuel the dinner table Conversation & living-room Music & Singing)
Poi dog pondering founder & singer; Frank Orrall loves to cook
& loves dinner parties
"I love dinner parties.
I love what happens when friends and family come together over food and drink. Standing in the kitchen, chopping, talking, sipping wine. Preparing, Serving. Everyone all together at the dinner table enjoying flavors and conversation.
The guitars coming out of their cases and the songs drifting into the night air.
A satisfied belly, a dream pondered and a song in the heart.
AVAILABLE DATES: 2020 is pretty wide open right now - lots of available dates (2019 is booked up)
If you are interested in hiring "Chef Franc" to bring the groceries & the guitar to your house to cook and sing for your dinner party
Scroll Down to the Bottom of this page to inquire about setting a date:
(If you don't hear back from Frank soon, it is only because he is out of town on tour - Summer time is especially is busy for Frank, music touring wise, so, he is not able to check emails on the road very easily - But, he does catch up when he gets home: Thank you for your patience and understanding, and for your interest! - He loves to do these nights, it is only free time that slows down the availability).
At the core of the concept of the Chef Franc Music And Dinner Party are 5 things: Good food, Good wine, Conversation, Music & the magic they make.
Food Shopping Priorities are:
Super Fresh ingredients: Locally grown / Seasonal and Organic Sustainably sourced seafood, & humanely handled, hormone free meats; Prepared with an international flare & diverse flavor combinations
" La Cuisine du Marché " : Menu selection is inspired by what looks good and Fresh at the Market
Drawing on the flavors of: FRANCE SPAIN ITALY AUSTRIA PORTUGAL MOROCCO GREECE TURKEY BRAZIL ARGENTINA MEXICO HAWAI'I JAPAN VIETNAM & pared with interesting wines from around the world.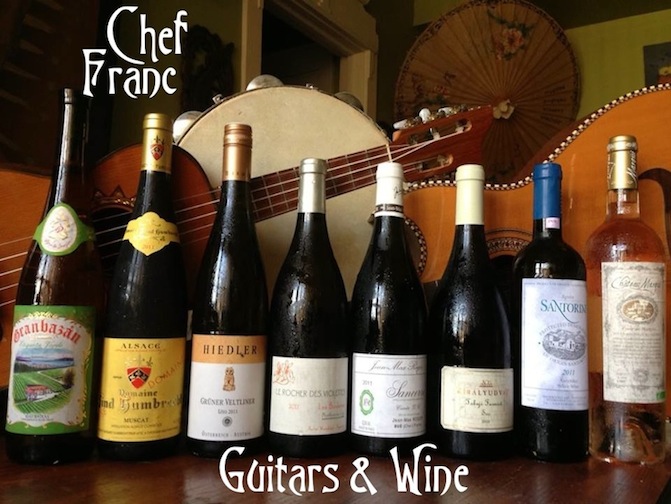 Some flavors that have been emerging at chef nights lately:
"I am enjoying focusing on Pan Mediterranean styles lately, and sometimes blending those with elements from Japan & Asia, and, loving vegetable focused plates"

Gyoza dumplings, Avocado Tempura and $ spice pancetta salad, Miso Salmon, Gazpacho, Lychee and Champagne,
Cool and Crunchy Mediterranean Feta salad, Roast Chicen and lemon zest, Roast Parsnip and Tomatillo slasa,
Mushrooms & Ramp butter w/ fresh herbs and shallots over rustic toast points
Spanish Boquerones Tapas
Vietnamese spiced Beef / Pork w spicey dipping sauce and fragrant rice
Butter leaf / Cherry Tomatoe / sweet Onion and Tarragon salade
Smoked Trout Salad w/ Watercress / Radicchio / Radish / Marcona almond & Cool, Creamy Dill and thyme dressing
Lamb & Chorizo Sausage with Fennel, Beans & sweet Onions in a lemon / Yoghurt dressing,
Miso poached salmon, Lima bean and Mushroom soup,
Grilled Fish and Season Vegetables and fresh lemon zest aioli
Paella MIxta - Camarones a la Basque (with Pernod)
Roasted rack of Lamb with herbed Cannellini Beans
Ratatouille - Gazpacho - Vietnamese 'Bo la lot'
Farro / Burrata Cheese / Fava / Mint / Basil salade
Simple Grilled Zucchini
MUSIC & DINNER PARTY DETAILS
Food: I usually decide on the menu a few days before or even day of once I'm in the store and can see what looks fresh and good. But I'm happy to follow any direction you want, in case you have any dis-likes or preferences…
We will do all the shopping and show up at your place with the Guitar & Food; we like to get there a few hours before the guests arrive, meet you and to prep and cook, so that I can be all ready and relaxed when they arrive. It's all very casual :) There is always Singing.
BASIC COST DETAILS
* 1 to 9 people: $700 + $30 (per person for Food )
* 10 to 15 people: $700 + $30 (per person for Food ) + $300 for my Sous Chef
* 16 to 20 people: $700 + $30 (per person for Food ) + $600 total for 2 Sous Chefs)
Poi dog pondering Band members can be added as Sous Chefs, cost is 500 per band member (in place of Sous Chef fees)
( In my experience, 16 or more people begins to lose intimacy, but can also be be fun - 21 or more is difficult for me, but it is is still possible - feel free to message me to discuss )
To inquire about booking Chef Franc and Friends to Cook for your dinner party, fill out this form, and let's see if we can't put a nice dinner party together :))
Chef Franc: The Music and Diner Party/ Troubadour/ Bon Vivant life
(Flavorful food & Inspiring wine to fuel the dinner table Conversation & living-room Music & Singing)